Virtual
Tafseer Al-Quran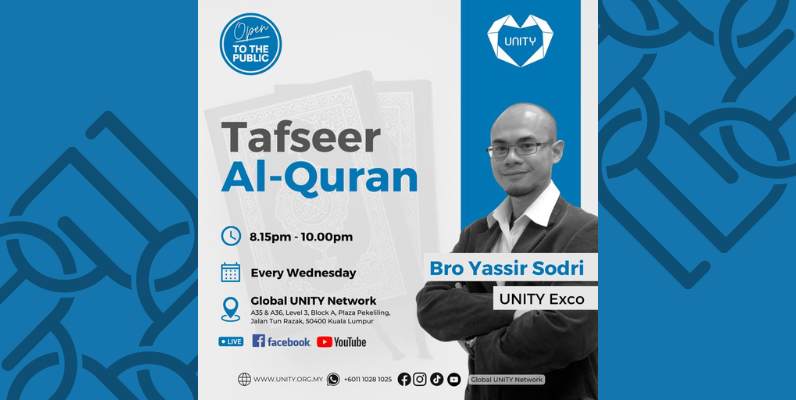 Description
Join this UNITY Tafseer class that focuses on learning the explanation and interpretation of the Quran and how to implement it in daily practice according to Islamic teachings by improving your understanding, especially on Akidah, Islamic History, the Life of Prophets, and Theology.
UNITY has designed this Tafseer class for English & Malay speakers or non-Arabic speakers living with non-Muslim in different parts of the world.
Muslims may live in different parts of the world, but nothing can fade their love for Allah and the Holy Quran.
When will it start? :
every Wednesday weekly at 8.15pm
Where is the location?
Global UNITY Network
A35 & A36, Block A, Level 3, Plaza Pekeliling, Jalan Tun Razak, 50400 Kuala Lumpur
Is there any online session?
You can view the LIVE session on Facebook Global UNITY Network and YouTube Global UNITY Media.
Are there any fees?
Nope
Is it open to the public?
Yes
Any questions or need more information?
Please WhatsApp +6011 1028 1025
---
TAGS
English
---
Date
08-02-2023 08:15 PM - 08-02-2023 10:00 PM
(GMT+08:00) Kuala Lumpur
Duration
1 hours, 45 minutes
---
FREE
Login